Why choose Engage for holidays?
Easiest holiday tool around
Engage Holidays is the easiest to use holiday management software around. An online tool for managing annual leave requests and entitlements, Engage makes the managers' admin task easier and helps you stay on top of staff holidays and resource management. It's also great for employees, who can submit their leave requests online! This quick video will show you just how easy it is to submit a holiday request:
By combining Engage's two modules of absence and holiday management software you can get a complete overview of all sickness absence, unplanned leave, other leave and holidays within your organisation and view it all across a simple visual calendar incorporating real-time data. And you save money as well!
Engage's leave management Software as a Service (SaaS) is a simple, yet highly effective tool, which allows employees to submit leave requests and managers to approve, suggest alternative dates or deny with their reasoning. All of the communication is handled through the system and the calendar is automatically updated.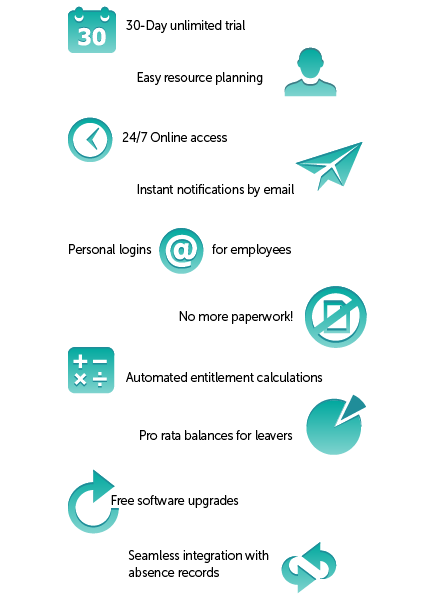 10 reasons to choose Engage
A no-obligation, 30-day unlimited use free trial.
Clear, colour-coded calendar view for easy resource planning and workforce scheduling.
24/7 access from any computer, tablet or smartphone making holiday management easier on-the-go.
Employees receive a personal login to view their own holiday record and request or amend holidays.
Instant email notifications to managers when holiday requests are submitted ensuring clear, healthy communication between management and employees.
Online approve / deny decisions – no more paperwork!
Holiday entitlements and available leave days are tracked automatically and all the relevant data is clearly visible on each employee's record. No more manual calculations or excel formulas!
Leavers' remaining entitlements calculated pro rata.
Customers can make use of new features and software updates when they are added for free!
Seamless integration with absence tracking when both features used together.