Engage absence management software features
Engage is a cost effective absence management Software as a Service (SaaS) solution aimed at SMEs. It now also includes a holiday management module and we can also deliver a fully managed absence management software and call centre solutions to companies with more than 250 employees. Engage helps you track, analyse and reduce absence - and manage holidays, too, with our new holiday management tool! See some of the key features, which are included in the Engage absence management software solution below:
Online absence recording
Engage is an absence management software tool. It records absences in real time online. You can appoint an administrator to look after absence registration or ask each line manager to log absence details for their team. You can even assign logins for all employees and allow them to report and manage their own absences. The absence registration forms make sure that all relevant information is captured for each absence. And you can customise the absence questionnaire so that additional information is gathered about the nature of the illness, any urgent tasks that need to be delegated, or doctor's appointments etc.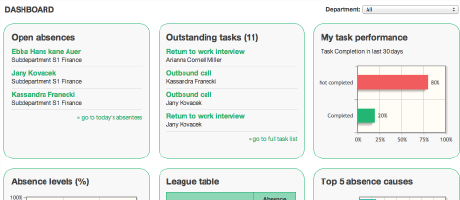 Live dashboard
Once your data starts to build up, it's just as important to analyse and act upon the findings as it is to record full details in the first place. To make this as easy as possible for you, Engage has a live dashboard that tracks your absence levels, ongoing spells, top absence causes, departmental breakdowns and task completion. And, if you're after more detailed data, there are a number of reports available to generate as and when needed.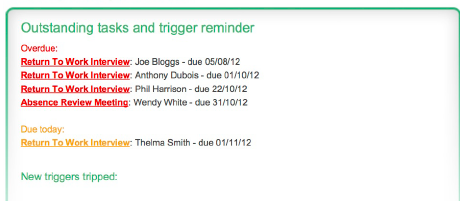 Tasks and reminders
Whenever an employee returns to work, a return to work interview task will be created for the line manager(s) to complete. If the task is left incomplete, daily reminders are sent by email until it is completed. Absence review meetings, Occupational Health reviews and welfare calls can also be scheduled based on custom triggers and conditions.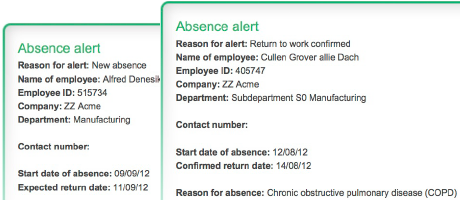 Email notifications
Your nominated line managers will receive instant automated emails whenever a new absence is logged for one of their staff members. Engage will also notify them when updates are logged and when the absence record is closed with a confirmed return to work date. In addition to this Engage will notify the managers when employees reach set thresholds of frequent absence and you can even customise your own triggers.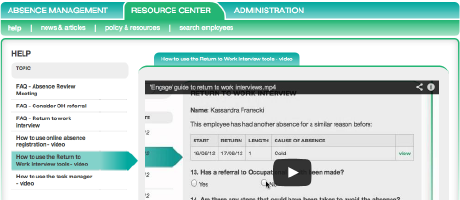 e-Learning suite
Our Resource Centre is a great tool for managers who are new to absence management software and absence management in general. It is also of benefit to those who wish to refresh their skills and keep up to date with best practices. Apart from the 'Help' section, which helps you get started with the software through videos and FAQs, we also offer useful articles and reference materials relating to common absence tasks and issues. Here you'll find, for example, the return-to-work interview guide that explains why and how the interviews should be conducted, and 'The Usual Suspects' guide to dealing with the 5 types of common absentees responsible for 80% of all absences.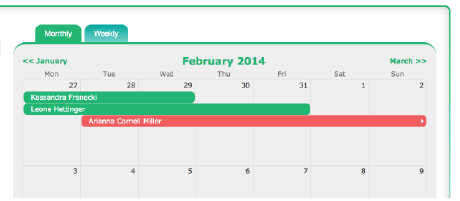 Engage demo video
To see how all these fantastic features come to life, you can watch our
short Engage demo video.
This less than 2-minute demo is a quick taster that gives you a feel for the user interface and the navigation around Engage. You can see for yourself how easy Engage is to use. And if you want to see more, there is a
longer version of the demo video
available, too!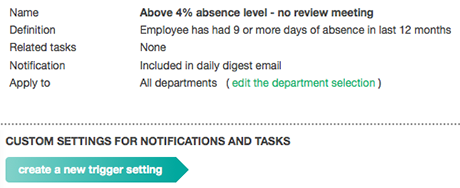 Easy admin
To top it all off, managing your account and customising it to your needs is really easy. You can upload your employee list using a csv upload tool or add, amend and remove employee details using our easy forms. All company preferences from the absence registration forms to task and notification settings can be customised to suit your needs. To help new users get started, some default settings are applied but these can all be switched off and replaced with your own custom setup.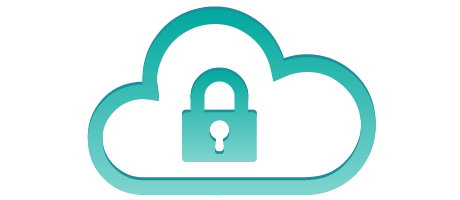 Cloud based SaaS
Engage is a self-service absence management software solution, where the data is stored securely in our data centre and can be accessed from any internet connected device anytime, anywhere. There is no software to download and install and you can be safe in the knowledge that your data is protected. It also means that all of your data is in one place so you can easily access it in real-time and use it as a decision-making foundation.
Find out more about
Cloud computing in HR
here.