Calculate your absence costs
Our new absence cost calculator is now live. With just a few metrics about your business, you can get an instant result of your direct absence cost per day and per annum. The results are shown in a donut diagram that splits the overall value to sick pay and replacement staff costs.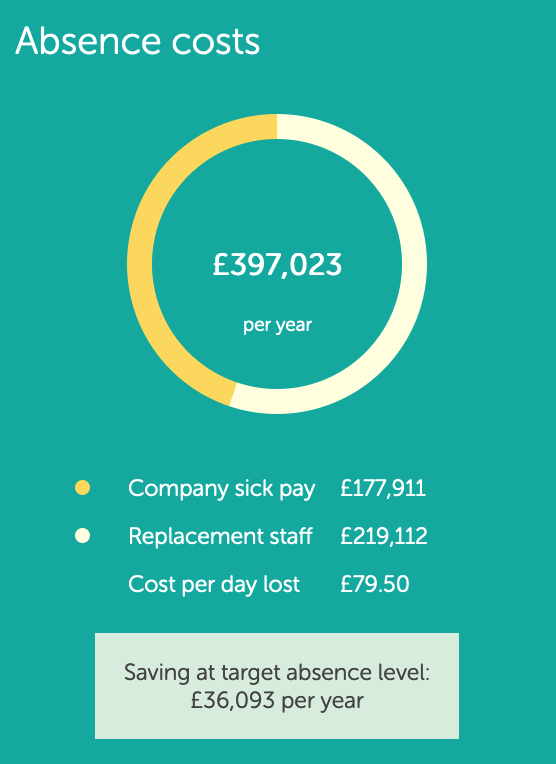 It all starts with a cost per day lost
Absence costs vary a lot by sector and the nature of work. For example, a 24/7 security company will need a high proportion of absent employees replaced by agency or standby staff whereas office based teams may be able to manage longer without a replacement. Some companies have more generous sick pay allowances than others. To customise the results to your business, indicate in the calculator what proportion of shifts need to be covered and if you pay enhanced sick pay or not. These direct costs are then calculated to show a cost-per-day-lost value as well as an annual total and potential for savings.
Benchmarking your cost of absence
Absence is a cost to the business, that much is fact. How much it costs is debatable. CIPD stopped reporting a cost figure in their annual reports after 2016 when they re-branded the focus from absence to health and wellbeing. CIPD's 2016 estimate was that absence costs £522 per employee per year, which we can imagine has gone up by a huge margin in 2021 alone, not to mention the 5 years before that. XpertHR still estimates the cost of absence in its annual survey of employers, with the latest figure at £781 per employee per year (2022).  Both numbers are averages based on a limited sample of companies, representing an absence level of 6.3 absence days per employee per year (CIPD) and 7.3 days per year (XpertHR).
In Honeydew's experience, these absence figures are extremely conservative. Absence becomes more of an issue the bigger the organisation is. Larger employers tend to tackle with 5% (or higher!) employee absence, which correlates to 11.4 days lost per employee per year. This would push the XpertHR annual cost figure to £1,219 per employee.
Calculating your absence level
The estimates published in these surveys can be a useful eye-opener for those new to absence management. Yes, absence is expensive. What you really need to know, however, is the full cost of absence to your business. In order to arrive at this figure, you need to have an idea of your organisation's absence level. The best way to find that out is to collect complete and accurate absence data with a fit for purpose tool, like Engage.

Even if you don't know your own absence level (yet!), it can be useful to estimate the cost based on benchmark figures. ONS reported a very low average absence level of just 2.2% for 2021 which we use as a starting point in the calculator. The larger your organisation, the more likely it is that your absence level will be much higher. At the height of the pandemic, key worker companies were reporting absence levels in excess of 10% and have only just returned closer to a 5% absence level in 2022. You can use the slider in our absence calculator to see how the costs change at different absence levels.
Total annual cost of absence
Now you're ready to calculate the total (direct) cost of absence to your company. Our absence cost calculator will do the number crunching for you!
Indirect costs add up too
The direct costs of absence are easier to quantify, but you should not overlook the indirect costs. These include administration time and management time spent recording, replacing and reviewing absence. They also include penalty fees for missed deadlines or unmet SLAs, lost opportunities, impact on client satisfaction and retention, not to mention reduced productivity.
Use Engage to cut your absence cost
Engage is a great tool for monitoring absence. The tasks and triggers help managers address absence issues. You can subscribe to Engage online as a software-only service or you can opt in for our fully managed Day-1 absence reporting service.