Engage RTW tool for Android now live
Great news! Engage RTW tool for Android is now live in Google Play Store. The mobile app is free to download and can be used by any existing users of Engage web application. The features available in our app are currently restricted to the Return to Work (RTW) interviews, as the name suggests. The tool allows mobile and field-based managers to browse and complete the interview tasks directly on their Android device.
Follow these steps to install Engage RTW Tool:
1. Open Google Play Store on your Android device
You may need to sign in if you haven't used the Play Store before. If you don't have a Google account, you can create one for free, it only takes moments and gives you access to the apps in the Play Store. Skip the step asking you to enter payment details – you won't need to pay for Engage RTW Tool, it is completely free.
2. Search for "Engage RTW"
Our app should appear as the first item in your search results. You'll recognise it from the familiar Honeydew melon icon: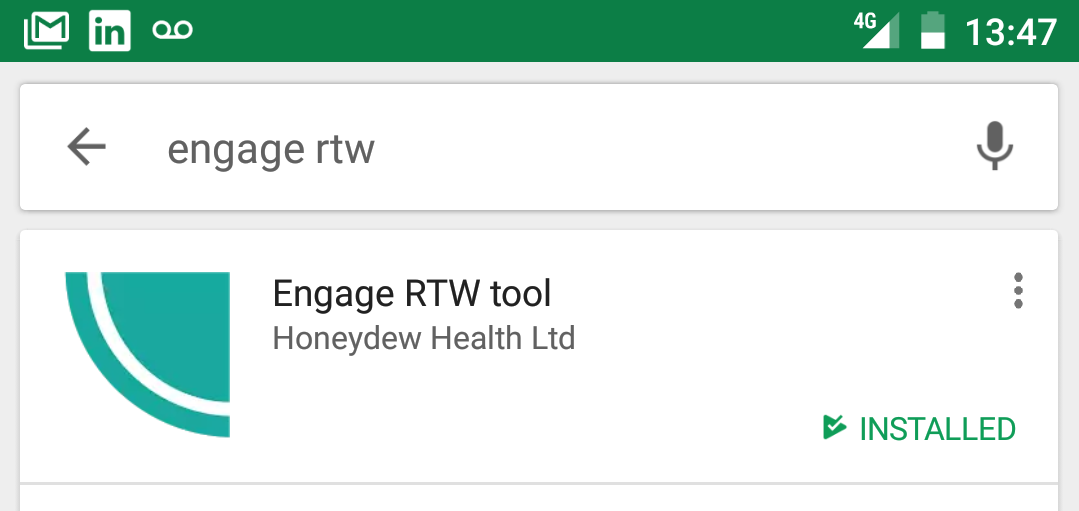 3. Click 'Install'
4. Click 'Open'
5. Log in with your usual Engage username and password. Your username is your email address. If you have forgotten your password, you can reset it by using the 'Forgotten password' option on our website (link to reset your password).
6. Browse and complete your tasks!
You will be automatically logged out after 30 minutes of inactivity to keep employee data safe so make sure you complete each task before the time-out to avoid losing your input. If you want to print the completed form, you can access the PDF files via our desktop app as usual. Once completed, the task forms are no longer visible in the mobile app.
---
Have you tried Engage RTW tool for Android? Let us know what you think!