Have you heard of First Day OH service, the new approach to early intervention?
Early intervention has always been our mantra. The sooner an absence is reviewed and the appropriate action taken to put a plan in place for a return to work, the better the outcomes. Short of spotting any warning signs for problem before it escalates to an absence, there's no better time for early intervention than the first day of absence. We've shared some scary stats in the past that should give us enough reason not to be idle while an absence gradually becomes long term, but if you were wondering how to achieve this in practice, Day-1 OH could be the solution you've been looking for.
What is First Day OH?
Day-1 or First Day Occupational Health (OH) service is a fast-tracked route to medical advice to help manage absence. It closely links to Day-1 Absence Management service, where all absentees details are collected from start of the absence and stored centrally. This robust data collection allows for clever triggers to be put in place for a referral to an OH Advisor as early as on the first day of absence. After reviewing the absence details, the Advisor calls the absent employee on the same or following day and completes a 15-minute  telephone assessment. The manager then receives a short report on the same day providing a fitness statement and likely return to work timeline (e.g. 1-3 days or 1-2 weeks).
What triggers a First Day OH appointment?
The specific triggers to prompt a referral can be customised to suit each organisation. As a general rule, OH referral is recommended, for instance, when someone is absent due to a reason that has high likelihood of becoming a long term issue. Good examples of this are stress or musculo-skeletal illnesses. At Honeydew, we would also recommend linking the OH assessment to your company absence trigger points. This way the line manager will have immediate medical advice to incorporate into the absence review meeting they arrange with the employee.
Support earlier return to work
OH input can also be beneficial if an employee has just sent in a sick note for 2 weeks or longer, as there may be an opportunity for them to continue working with adjustments. Oftentimes people forget that you don't have to be 100% fit to return to work. In fact, being in work can be beneficial for the recovery and rehabilitation after an illness or injury. Some absent employees can also return earlier if a phased return can be arranged.
In these cases, it's counterproductive to wait 2 or 4 weeks before referring the employee for an OH assessment – followed by a further week or more before the report is written and sent back to management. In those crucial first 4 weeks, you've already reduced the chances of the employee's return to work by 20%. 1 in 5 will not return to work after just 4 weeks of absence (Health at Work 2011) and this is why getting access to medical advice for those complex cases early on is so important.
Quantifiable results in integrated reports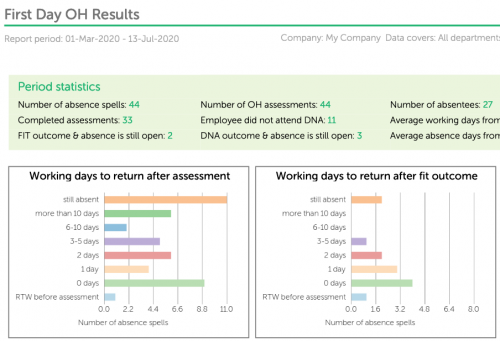 Honeydew has teamed up with BHSF to deliver a first class integrated Day-1 offering combining Honeydew's Day-1 Absence reporting with the First Day OH assessments delivered by BHSF. The referral process is seamless and flows from the absence service to the OH team based on criteria agreed with the client. Once the assessments have taken place, the outcomes are linked back to the absence record and integrated reports can be produced to show the turnaround times of both appointments and subsequent returns to work.