Modular RTW form
A little while back, Engage released an exciting feature that a lot of HR teams have been asking for: a modular Return-to-Work form. This is where you can modify the form to suit your company policy and practices. All companies inherit the standard form when the account is first created, but in the settings area system administrators and account owners can view the available modules and re-order them.
There are a lot of optional modules that some employers might like to use, such as health & safety checks or questions about accidents at work. If the company needs to collect very specific data about the absence, there's also a premium feature to add custom blocks to the form.
What's really cool about the custom blocks is that they can be added as reportable fields to the custom data table. That way your data comes full circle. For example, you might want to prompt managers to discuss whether the absence qualifies for pay or not. You can choose if the prompt is relevant for both medical and non-medical absences and include one or several questions in the prompt:
"Does this absence qualify for pay?" with custom multiple-choice answers "yes, paid" or "no, unpaid". You can also choose any other survey answer type like date, time, open text etc.
"Please specify why the absence is paid or unpaid" with an open text entry for the managers decision.
You will probably want to report on the pay status to payroll. To do that, just need to tick a box and the fields can be added to all custom data table reports.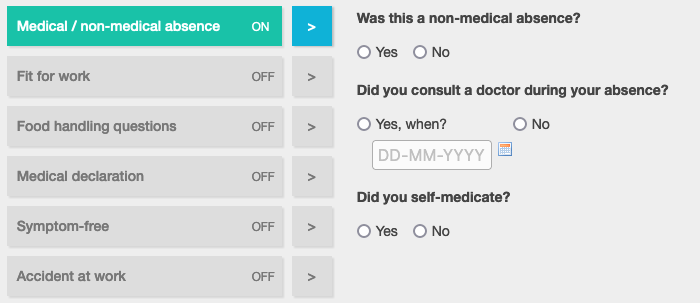 While editing the form, you can easily preview the changes and switch the block to inactive while you're still working on the wording. There is a small arrow button to preview each block to help you decide if the questions are applicable to your work environment. You can also preview the whole form without the need to leave the settings page!