New Holiday Management tool
Engage recently saw the online subscriptions open to business. We haven't been resting on our laurels since then but busily preparing for a new feature to manage holidays. The holiday tool is currently in production and expected online before Christmas.
What does a holiday management tool do?
Our tool will allow you to:
manage holiday requests
keep track of taken and untaken annual leave
avoid holiday 'rush hours' at the end of the holiday year
get a visual overview of absence and holiday in your team
In a bit more detail, this means that employees can request their leave online. The system handles both paid and unpaid holidays and you can even mix the two in a single request. Managers use the online portal to approve or deny the requested holiday. There is a handy absence calendar that gives an overview of other team members who are scheduled to go on holiday or currently absent – if you are tracking absence using Engage, of course! All along the way, both manager and employee are notified by email whenever requests are logged and changed or approved and denied respectively.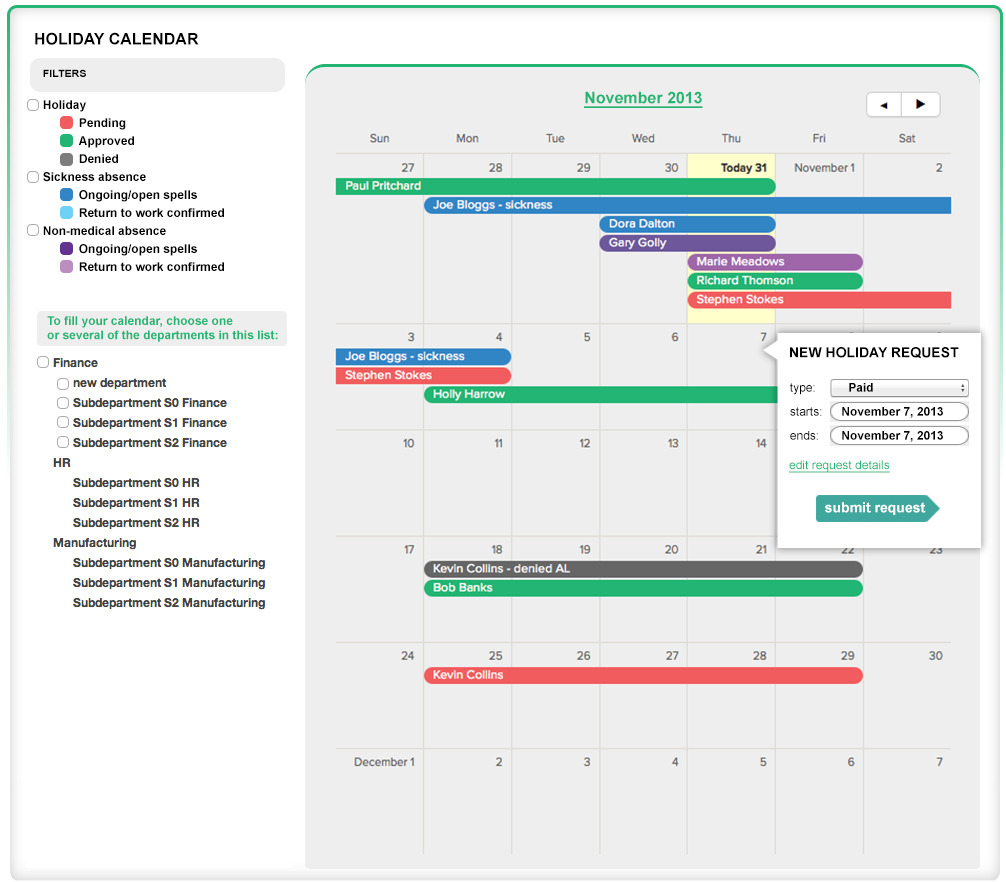 You will be able to use Engage holiday management tool to track holiday entitlements and export data into reports. There will be customisable triggers to highlight staff members who have not taken their annual leave yet or those who have requested more leave than they are entitled to. All the entitlements can be customised to fit the company T&Cs or by individual if different employees have different contract terms. Employees holidays will be converted to taken annual leave days based on a working calendar. These calendars can be set on a company-wide, departmental or individual basis. You can also edit what days should be counted as working days during a specific leave period so that all holiday calculations are always accurate.
So an all-singing, all-dancing holiday management tool with the works. We are undeniably very excited. The tool will be made available as an add-on to existing and new Engage absence management subscribers. We plan to also offer the tool as a standalone product in the near future. Watch this space for further details and a demo video very soon!